About Us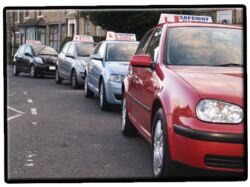 Safeway Rider School of motoring was established in 1992. The company is situated in Bradford and have many years of experience in the Driver Training profession. The main focus of the company is on providing quality training to clients throughout the UK. Whether learning to drive or training to become a Driving Instructor (throughout UK) .
With a workforce that includes ORDIT & fleet trainers, Safeway Rider has a dedicated team of highly qualified professionals. It is this high degree of commitment and dedication coupled with a supreme level of expertise which makes this Driving School outstanding. With up to date training methods and friendly, well trained staff, the business provides expert driving instruction services to local people. There is a structured training programme in function which is designed to teach pupils to drive to a high standard and to be confident when taking their driving test.
The instructor training programme is amongst the best available and attracts customers from all over Britain. As an ORDIT registered training establishment, development training is provided for parts 1, 2 and 3 of the qualifying examinations. The company is managed by Akmal Shah who has been involved in the Driver Training industry for over 18 years.
Safeway Rider School of Motoring of Bradford provides exceptional driving instruction for Learner Drivers, as well as Advanced Driver Training, Refresher Courses, Driving Instructor Training and Fleet Driver Training.

Covering the whole of West Yorkshire including Bradford, Leeds, Keighley, Halifax, Huddersfield and Dewsbury, Safeway Rider School of Motoring provides a wide variety of services:

• Beginner Driving Lessons
• Fast Pass
• Pass Plus
• Advanced Driver training
• Motorway Driving
• Refresher Courses
• Contracts
• Driving Instructor training
• Fleet Driver training